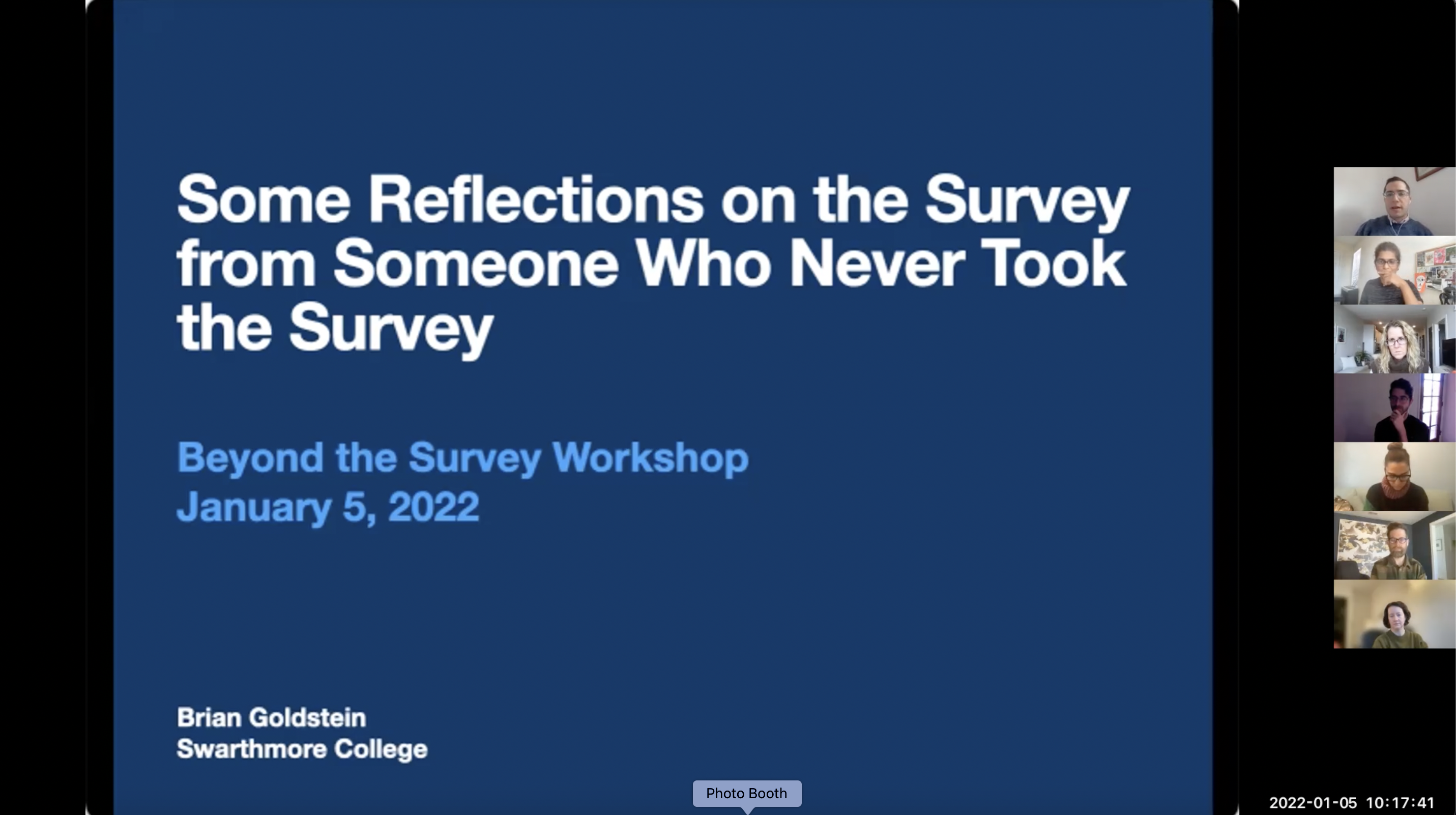 Beyond the Survey
Beyond The Survey
The workshop examined the architectural history survey course as a typically chronological setup spread over two semesters, often burdened by notions of historical progression and essentializing categories of style, period, and nation. Over a week, six architectural historians asked: if this rigid two-semester space had to be reimagined, what can it become? While architectural history survey courses have pedagogical value as introductory platforms for students, the workshop argued for new conceptual and pedagogical frameworks that engage with the histories of race, class, gender, labor, and capital in a more dynamic fashion. The survey does more than offer a generalized chronological gaze over the field when architectural and urban histories get embedded within ecological, political, social, material, and cultural histories. While we have more access to content than before—thanks to sources such as GAHTC—there are still questions of format, form, and structure that need to be scrutinized and analyzed. What kinds of changes can kindle cultural and historical literacy, critical thinking, and interdisciplinary research methods among students?
Invited Speakers
Andrew Herscher (University of Michigan).
Mrinalini Rajagopalan (University of Pittsburgh).
Sara Stevens (University of British Columbia).
Brian Goldstein (Swarthmore College).
Participants
Bryan Norwood (University of Texas, Austin).
Nikki Moore (Wake Forest University).
Maria Gonzales Pendas (Cornell University).
Aaron Cayer (University of New Mexico).
Tania Guitterez Conroy (University of Houston)
Deepa Ramaswamy (University of Houston)
Schedule
The workshop accounted for a total of 16 hours of our collective time.
Day 1: January 4, 2022
10.00am EST (9.00am CST, 8.00am MST) - 11.30am EST (10.30am CST, 9.30am MST)
Session 1: Introduction
In attendance (only participants)
This session covered introductions, workshop objectives, and schedules. We discussed what we each wanted from the following days. We also briefly discussed the courses we currently teach in our universities.
Day 2: January 5, 2022
11.00am EST (10.00am CST, 9.00am MST, 8.00am PST) - 1.30pm EST (12.30pm CST, 11.30am MST, 10.30am PST)
We had two talks followed by a discussion.
Session 2: Talk 1
In attendance (speakers for the day and all participants)
Brian Goldstein
Talk: "Some Reflections on the Survey from Someone Who Never Took the Survey"
Sara Stevens
Talk: "Four Years in the Beyond: Teaching Architectural History to MArchs without the Survey"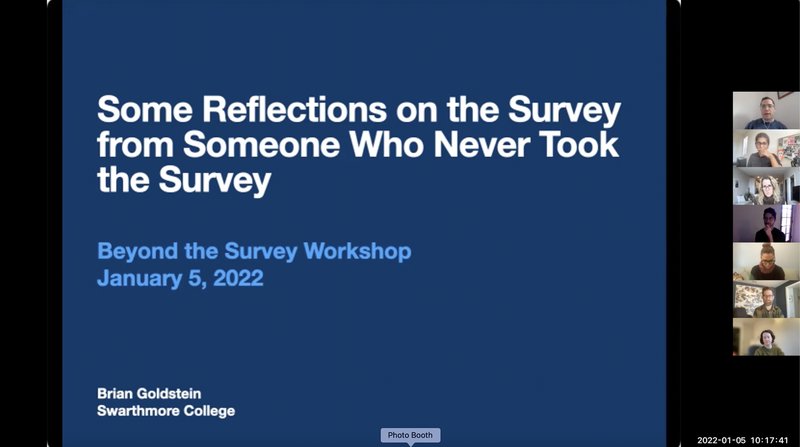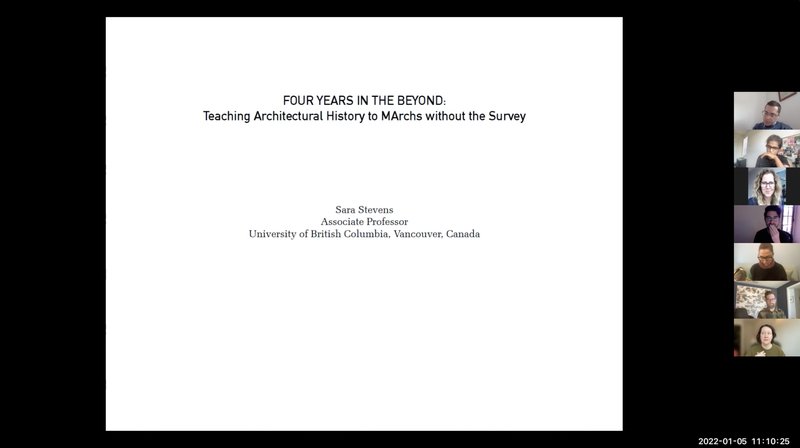 Workshop Day 2 Recording:
Both the talks led to very meaningful discussions. Brian Goldstein spoke about how non architectural background that frees him from disciplinary baggage and questions of the canon and precedents. Brian also spoke about the specifics of teaching in a liberal arts school. Sara Stevens's talk discussed the graduate program at UBC which phased out the survey course for more thematic courses that covered architectural histories in more depth. They also coincided with the professor's own research focus.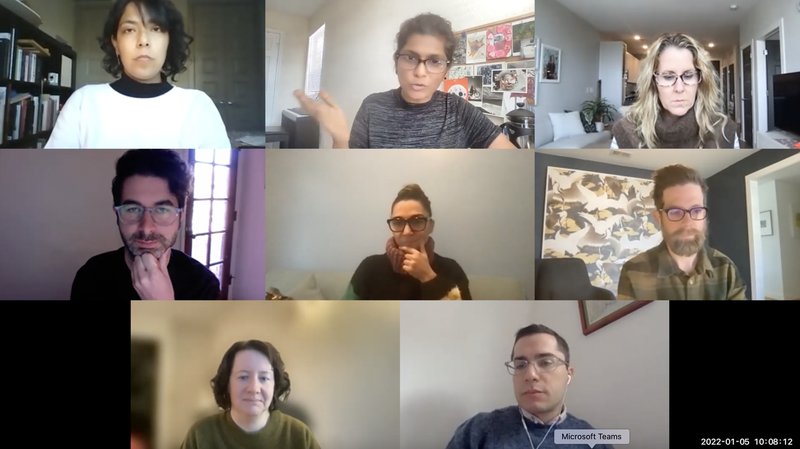 Day 3: January 6, 2022
10.00am EST (9.00am CST, 8.00am MST) - 12.30pm EST (11.30am CST, 10.30am MST)
We had two talks followed by a discussion.
Session 3: Talk 2
In attendance (speakers for the day and all participants)
Mrinalini Rajagopalan
Talk: "The Survey as a path to "Generous Thinking"
Andrew Herscher
Talk: "Towards a People's History of Architecture"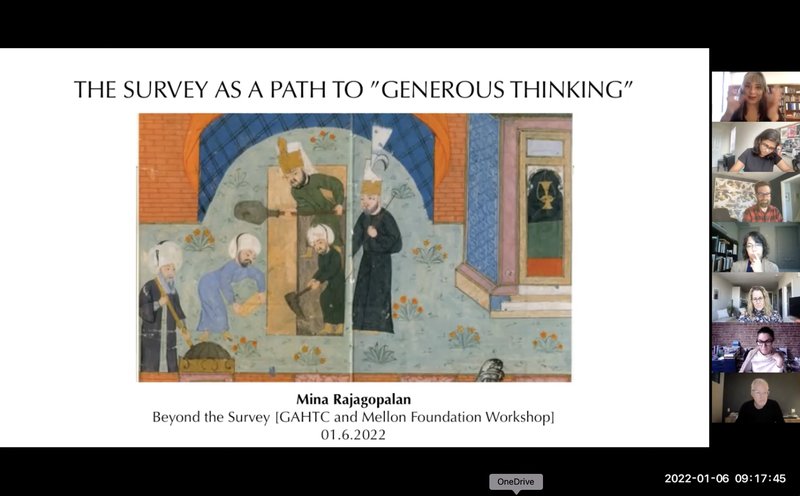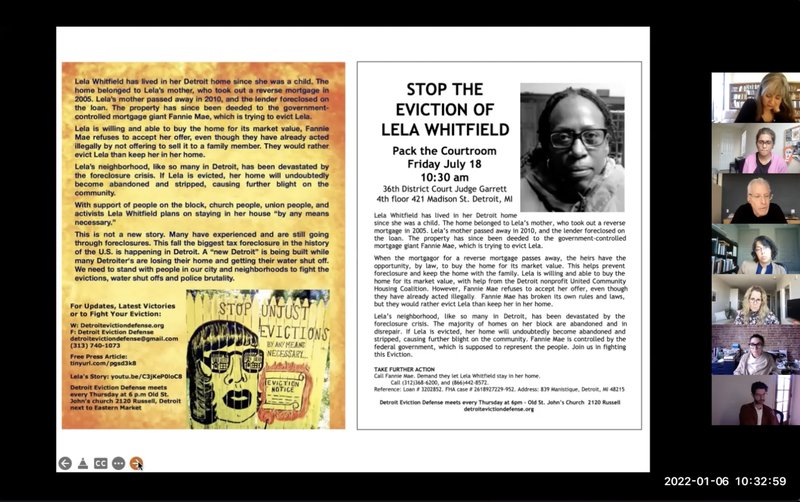 Workshop Day 3 Recording:
Rajagopalan and Herscher gave two excellent talks that culminated in a discussion. Rajagopalan's talk examined her survey as taught through the categories of Travelers, Makers, and Believers, and shaped by the attitude of 'generous thinking' which includes listening, collaboration, and community. Herscher's presentation spoke about how his architectural history course takes on an agonistic attitude that gives students invitations, prompts and suggestions for understanding their curriculums, professions, and worlds differently.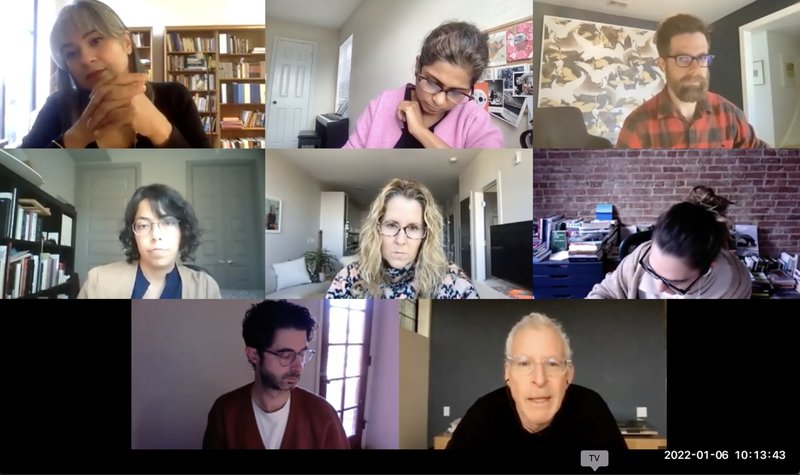 Day 4: January 7, 2022
10.00am EST (9.00am CST, 8.00am MST) - 1.00pm EST (12.00am CST, 11.00am MST)
Session 4: Discussion
In attendance (only participants)

We first shared our thoughts on the talks from the last two meetings. We discussed our institutions, the expectations from the survey courses in our departments, student expectations, the value of readings, sections and discussion models, guest lecturers, assignments, and their roles within the course and grading. We all had changed some of our ideas and expectations from our courses. We also discussed what we want to do with our deliverables.
Day 5: January 14, 2022
11.00am CST - 12.30pm CST
Session 5: Discussion
In attendance (only participants)
A week after the earlier meeting, we met to discuss our finished deliverables and final thoughts.
Workshop outcomes
We came away with diverse insights into how other departments and schools have engaged with their survey courses at the undergraduate and graduate levels. The lectures and discussions clarified how the form and format of the survey can be configured to engage with some of the issues that stem from the familiar burdens of chronology, historical progression, and limiting and essentializing categories such as style, period, or nation. We discussed how survey courses need not be hemmed in by the imperative to cover an impossibly vast list of examples. Instead, they can be shaped by the course outcomes and objectives that focus on specific pedagogical intentions. The connection with other young academics who shared some of our concerns about the architectural survey course was immensely valuable. We all agreed that the workshop left us with some clarity on revising our teaching practices based on some of the changes we discussed over the week.
Some of the lines of inquiry covered in our discussions on Days 4 and 5
Assignments that can be productive in a survey context
How does the survey class help train Ph.D students / TAs?
What do we think about the canon? What can we lose/abandon/cut?
Beyond the yes/no question to the canon, how do we decolonize the canon–debunk the hagiographies/theologies– in the survey? And think of its role in terms of equity?
How do we talk to students about what they will leave the class not knowing?
Why is the survey valuable in the context of teaching architects? Or how do we define its objectives in more abstract pedagogical terms?
What are the roles and methods of history and of thinking historically? What is the role of humanistic thinking in higher education?
How to establish a student's sense of belonging/interest in history?
Can we discuss our course outcomes/objectives?
How do we differentiate between graduate and undergraduate students?
How do we teach reading/writing in the survey class?
What are the curricular implications (ideals) of re-thinking the survey?
What is the role of writing in a survey context?
Deliverables
While we began with a standard set of deliverables, as the workshop proceeded, we realized each of us had very particular takes and predicaments that were the product of our institutions, departments, and pedagogical choices. We also learned that we were at different points in our academic careers—some of us had spent more time teaching the survey course, while some were just beginning. This difference in experiences made us understand that the deliverables had to be based on the participant's specific needs and expectations. With the urgency of the Spring semester ahead of us, we all concluded that we should each produce deliverables that will be helpful to our teaching and course development, considering the previous meetings and presentations. We also decided to create a shared reading list for survey courses.
Aaron Cayer decided to work on course rubrics, goals and one of his assignments.
Maria Pendas worked on two of her assignments, Crafting History workshop and Writing Assignment. She also worked on developing her course objectives and requirements.
Deepa Ramaswamy decided to focus on all my course assignments which I felt needed the most work. I also worked on my rubrics.
Nikki Moore developed her course objectives and Course assignments. She also worked on her Ted Talk style assignment that she was developing at that time.
Bryan Norwood decided to spend time on course outcomes, especially considering changes at his university.
Together all the deliverables, bring together an eclectic and interesting set of works that reveals the multiple parts of designing and teaching an architectural survey course.
Reading List
We also developed a shared reading list for the architectural history survey course.
This reading list was collectively produced by a group of architectural and urban historians during the workshop Beyond the Survey held in January 2022. We have assembled a series of readings that is a teaching resource and is open for viewing and sharing. This reading list engages with the question: what kind of readings do you recommend for an architectural survey for undergraduate students? What do we hope these readings achieve within the larger framework of the architectural survey and its purpose and intentions?
How do the readings change when dealing with a mixed group of students, graduate and undergraduate, and from multiple disciplines?
COLLECTIVE AUTHORSHIP
2022
Contributions to this list were made by Bryan Norwood, Nikki Moore, Maria Gonzales Pendas, Aaron Cayer, Tania Gutierrez Monroy, Deepa Ramaswamy.
(make categories as you add the readings)
Architecture / The Vernacular / People's History
bell hooks, "Black Vernacular: Architecture as Cultural Practice," in Art on My Mind: Visual Politics (New York: New Press, 1998), 145–51.
Dolores Hayden, "Claiming Urban Landscapes as People's History," Journal of Urban History 1994; 20; 466-484.
Slavery / The Plantation
Louis P. Nelson, "The Architecture of Democracy in a Landscape of Slavery: Design and Construction at Jefferson's University," in Lloyd De Witt and Corey Piper (eds.), Thomas Jefferson Architect: Palladian Models, Democratic Principles, and the Conflict of Ideals (Norfolk, New Haven: Chrysler Museum of Art; in association with Yale University Press, 2019), 98-117.
Dell Upton, "White and Black Landscapes in Eighteenth-Century Virginia," Places 2, no. 2 (1984): 59–72.
Colonialism
Itohan Osayimwese, "The Colonial Origins of Modernist Prefabrication," Colonialism and Modern Architecture in Germany (Pittsburgh: University of Pittsburgh Press, 2017), 187-210.
David Fortin, "From Indian to Indigenous Agency: Opportunities and Challenges for Architectural Design," in Design and Agency: Critical Perspectives on Identities, Histories, and Practices, ed. John Potvin and Marie-Ève Marchand (London and New York: Bloomsbury Visual Arts, 2020), 243–58.
Eve Tuck and Wayne K. Yang, "Decolonization Is Not a Metaphor," Decolonization: Indigeneity, Education & Society 1, no. 1 (2012): 1–40.
Modernism
Andrew Herscher, "Refugee Housing: Toward a Cardboard Architecture," Displacements: Architecture and Refugee (Berlin: Sternberg Press, 2017), 43-75.
Modernity/Coloniality
(This section pertains txts to have students think about representation and under representation in the histories and archives…not always architectural txts)
Jorge Canizares-Esguerra, "Whose Enlightenment Was It Anyway?" How to Write the History of the New World (Stanford University Press, 2001), 266-345
Linda Nochlin, "Why Have There Been No Great Women Artists?" In Women, Art and Power and Literature (London: Penguin, 1972), 390-435
Dipesh Charkrabarty, "Postcoloniality and the Artifice of History: Who Speaks for 'Indian' Pasts?" Representations 37 (1992), 1-24.
Saidiya Hartman, "Venus in Two Acts." Small Axe, vol. 12 no. 2, 2008, p. 1-14.
Dell Upton, "Monuments and Crimes" Journal18, 2020
Kwame Anthony Appiah, "There is no such thing as western civilization," The Guardian, Nov 9, 2016
Fernando Luiz Lara, "Abstraction is a Privilege," Platform, June 7, 2021 –or– the intro to the new book Spatial Concepts for Decolonizing the Americas (Cambridge Scholars Press, 2022).
Capitalism
Carol Willis, "Vernaculars of Capitalism," Form Follows Finance: Skyscrapers and Skylines in New York and Chicago (New York: Princeton Architectural Press, 1995), 67-101.
Resources / Supply Chains
Mimi Sheller, "Metallic Modernities in the Space Age: Visualizing the Caribbean, Materializing the Modern," in Divya P. Tolia-Kelly and Gillian Rose (eds.), Visuality/Materiality: Images, Objects and Practices (London: Routledge, 2012): 13-37.
Urban Renewal
Brent Cebul, "Tearing Down Black America," Boston Review, 22 July 2020, http://bostonreview.net/race/brent-cebul-tearing-down-blackamerica.
Ta-Nehisi Coates, "The Case for Reparation," Atlantic, June 2014
The profession
Cynthia Hammond, "Past the Parapets of Patriarchy? Women, the Star System and the Built Environment," Atlantis, 34, 1 (2009), 5-15.
Bryan Norwood, "Whiteness and the Architectural Profession in the United States," Platform
Domesticity
Francisco Quiñones, "Mi casa es mi refugio: At the Service of Mexican Modernism in Casa Barragán," The Avery Review 48 (June 2020): 1–11.
Annmarie Adams, "The Power of Pink: Children's Bedrooms and Gender Identity," FKW//Zeitschrift Für Geschlechterforschung Und Visuelle Kultur (Journal of Gender Studies and Visual Culture) 50 (December 2010): 59–69.
Katarina Bonnevier, "A queer analysis of E.1027," in Negotiating Domesticity: Spatial Productions of Gender in Modern Architecture, ed. Hilde Heynen and Gulsum Baydar (London: Routledge, 2005), 162–80
Public Space
Susana Torre, "Claiming the Public Space: The Mothers of Plaza de Mayo," in Gender Space Architecture: an interdisciplinary introduction, ed. Jane Rendell, Barbara Penner, and Iain Borden (London: Routledge, 2000), 140–45
Narrative
Dana Arnold. "Reading the Past: What is Architectural History?" In Reading Architectural History. London: Routledge, 2002, 1-12
The Everyday
Sarah López, "The Remittance House: Architecture of Migration in Rural Mexico," Buildings & Landscapes 17, No. 2 (2010): 33-52.
James Rojas. "The Enacted Environment: Examining the Streets and Yards of East Los Angeles." In Everyday America: Cultural Landscape Studies after J. B. Jackson, edited by Chris Wilson and Paul Groth. Berkeley: University of California Press, 2003, 275-92.