Global Connections Fellowship - Domestic Worldmaking of the Enslaved Workshop February 19, 2022. 10am - 3.45pm EST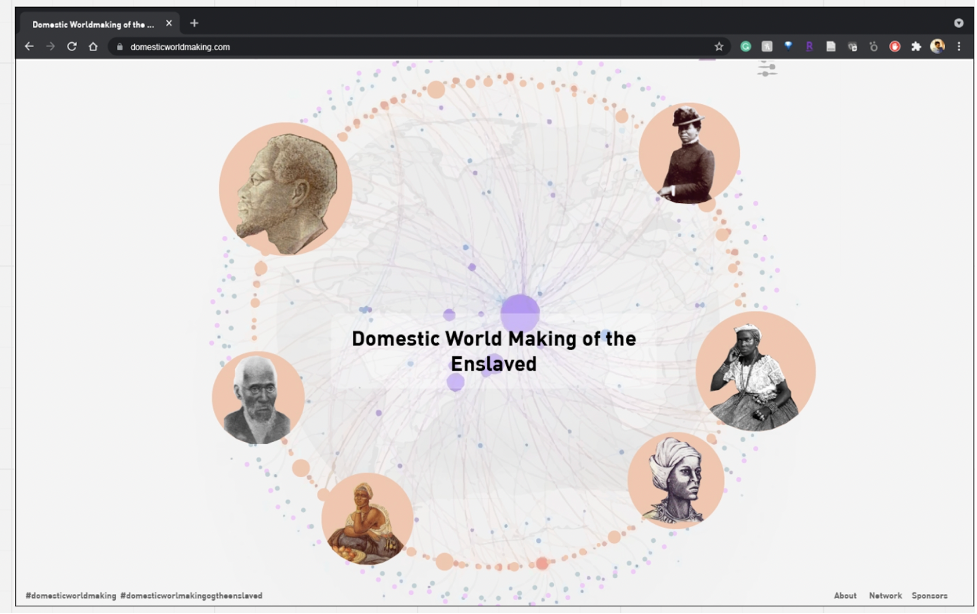 Global Connections Fellowship - Domestic Worldmaking of the Enslaved Workshop February 19, 2022. 10am - 3.45pm EST
Organized by:
Mae-ling Lokko, Yale University
Geri Augusto, Brown University
Simon Benjamin, Hunter College
Marie-Louise Richards, Royal Institute of Art, Stockholm
Mohamed Aly Etman, Yale University
Henry Wellington, University of Ghana (retired)
The architectural legacy of the Transatlantic Slave Trade has primarily focused on the large-scale, formal infrastructures and landscapes of power including slave forts, trading harbors, agricultural infrastructure buildings and of course the plantation itself. Within these frameworks, much less attention has been paid to the relationship between the domestic architectures of the enslaved and formerly enslaved, that were deeply nested within a broad set of persistent worldmaking practices including the agricultural, botanical, textile, fashion, art, music and oral tradition. This Global Connections Fellowship aims to develop a virtual workshop and platform bringing together a diverse range of scholars and experts primarily from West Africa, Brazil, the Caribbean, Europe and the United States to both integrate and address gaps within this rich lineage of cross-Atlantic vernacular domestic typologies and worldmaking practices by the enslaved.
The ambition of the Global Connections Workshop is to stimulate a collective discussion and stimulate linkages between diverse work related to the agency and innovations stemming from the domestic practices of individuals enslaved during the Transatlantic Slave Trade. From their materials and building traditions, their gardens to their culinary inventions, the workshops aims to bring to life for a broad audience, and in new ways, the still underexplored material ecology that the enslaved continuously innovated to rebuild their lives in new environments.
The strategic use of Goodman's term "worldmaking" aims to advance our understanding of the agency and innovation by the enslaved across cultural, climatic and economic contexts. This proposed work aims to employ a "critical geography of architecture" methodology which uses both common methods of historical documentation that represent buildings and artifacts of worldmaking processes by the enslaved, as well as multimedia format that document the social practices and use of such spaces, objects and materials.
The Global Connections Workshop will focus on four "Domestic Worldmaking" narratives including: (1) Making a Life on and Off the Water, (2) Soft Architectures: Gardens and Provision Grounds of the Enslaved, (3) Remaking a Home and (4) Monumental Lives. Through each, we hope to link domestic typologies with the broad material ecologies and lives of the enslaved across the North and South Atlantic.
Participation in The Global Connections Workshop is open to invited participants whose scholarship and work are related to this subject matter. All members of the public may attend the workshop by registering in advance through the Zoom Webinar registration link: https://us02web.zoom.us/webinar/register/WN_mU-b1ocQRFeQO8Gk7Kp5nA
Morning Session (10.00 am - 12.00 pm)**All times are given in Eastern Standard Time
10.00am - 10:30am Domestic Worldmaking Project Introduction
Mae-ling Lokko
10.30am - 10.55am Session 1: Making a Life On and Off the Water
Speakers and Discussants:
Prof. Kevin Dawson (Univ.of California Merced), Simon Benjamin (Hunter)
10.55am - 11.15am Session 1 Discussion
11.15am - 11.40am Session 2: Soft Architecture: Gardens and Provision Grounds
Speakers and Discussants:
Geri Augusto (Brown University),
Elionice (Leo) Sacramento, (Quilombo Conceição das Salinas, Bahia)
11.40am - 12.00pm Session 2 Discussion
12.00pm – 1.00pm Lunch Break
Afternoon Session (1.00 pm - 3.45 pm)
1.00pm - 1.25pm Session 3: Remaking A Home
Speakers and Discussants:
Mae-ling Lokko (Yale University), Henry Wellington (Univ.of Ghana, Retired)
1.25pm - 1.45pm Session 3 Discussion
1.45pm -2.10pm Session 4: Monumental Lives
Speakers and Discussants:
Marie Louise Richards, (Royal Institute of Art, Stockholm)
La Vaughn Belle, (University of the Virgin Islands)
Michael Barrett (Museum of Ethnography Stockholm),
Jonell Twum (co-founder, Black Archives Sweden),
2.10pm - 2.30pm Session 4 Discussion
2.30pm - 2.45pm 15 min Coffee Break
2.45pm - 3.45pm Closing Discussion and Remarks
The Global Connections workshop will held virtually on Zoom Webinar, moderated by Mae-ling Lokko and technically directed by Izzy Dow.