2017 Members' Conference - Los Angeles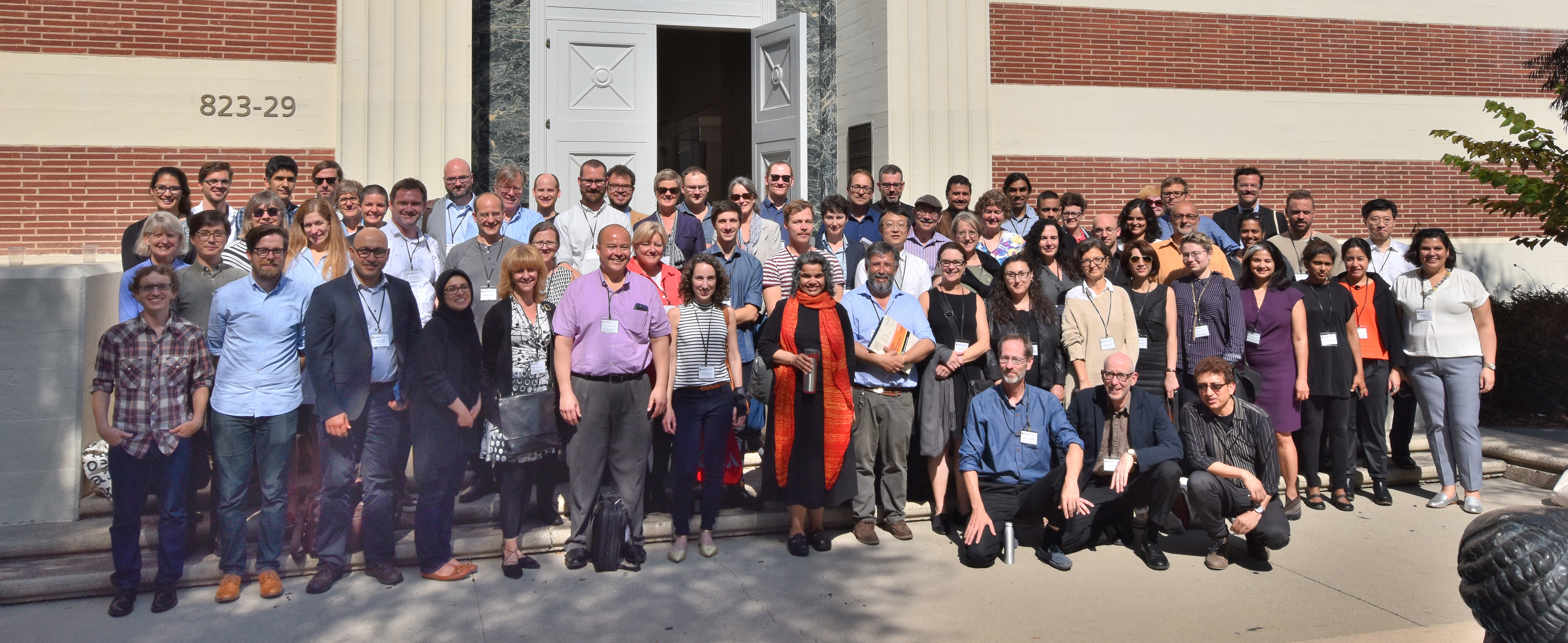 2017 Members' Conference - Los Angeles
The GAHTC hosted its 2017 Members' Conference at the University of Southern California in Los Angeles, September 29th and 30th. The Members' Conference is a forum for content presentations, teacher to teacher workshops on pedagogical techniques, as well as opportunity to collectively discuss GAHTC goals, progress, and imperatives.
CONFERENCE LOCATION & ACCOMMODATIONS
USC School of Architecture
850 Bloom Walk, Watt Hall 204
Los Angeles, CA  90089-0291
Radisson Hotel
Los Angeles Midtown, USC
3540 South Figueroa Street
Los Angeles, CA 90007
NOTES FROM BREAK-OUT SESSIONS
Global as a Theory - Group One
Global as a Theory - Group Two
Pedagogy in the Era of Social Media

Teaching Global Humanities to Non-Architects
Bringing the Global into the Curriculum

CONFERENCE PROGRAM 
FRIDAY, SEPTEMBER 29 
9am-11am: Global Connections Breakfast (for international participants)
Arid Lands Institute
12noon: Lunch (GAHTC members only)
Harris Courtyard
1:00-2:00pm: GAHTC1 – A year in review & Launch of GAHTC2
Harris Courtyard
2:00-2:45pm: Website Presentation, JD Godchaux
Harris Hall 101
2:45-3:30pm: Architectural History Survey Syllabus, Vikram Prakash
Harris Hall 101
3:30–4:00pm: Break (Refreshments)
Harris Courtyard
4:00-6:00pm: Plenary Session
How does one teach architectural history with a global emphasis today?
Harris Hall 101
Discussants: 
Greg Castillo, UC Berkeley

Stella Nair, UCLA

Philip Ethington, USC

Moderators: 
Vikram Prakash

Mark Jarzombek
SATURDAY, SEPTEMBER 30

8:00am: Leadership Session with GAHTC Board & Grant Team Heads 
8:30-9:00am: Members' Breakfast
Harris Courtyard

9:00am-1:15pm: Presentations
9:00am – 10:00am:  Full Lecture + Discussion
New Oral Interview Archive for Teaching Architectural History, Joseph Bedford 
Lindhurst Gallery 
The American Continuum, Jordan Kauffman & Ana Maria Leon 
Watt 212
10:00am – 11:00am:  Full Lecture + Discussion
Armenian Church Architecture, Heghnar Watenpaugh 
Watt 212
Architectural links between Islamic World and Latin America, Fernando Martinez Nespral 
Lindhurst Gallery
11:00–11:15am Short Break
11:15am – 12:15pm Full Lecture + Discussion
Coffeehouses and Teahouses, Farshid Emami 
Harris 102
Mobile Architectures, Alicia Imperiale
Watt 212
12:15pm – 1:15pm Full Lecture + Discussion
Between Constantinople and Karakorum: The Architecture of Pre-Modern Russia, Igor Demchenko 
Harris 102
South African Formations of Spatial Culture, Hannah le Roux Verle 
Annis Gallery
1:15-2:00pm Lunch
Harris Courtyard
2:00–3:30pm Break-out sessions  
How to optimize the use of the website and its content?
Clipper Lab
How to get the Global into the curriculum?
Harris 102
"Global" humanities in architecture schools. How to teach architectural survey to non-architects/historians? 
Lindhurst Gallery
Grant writing session per shared module theme interests.
Watt 1
Grant writing session per grant category. 
Harris 115
What is "Global" as a theory? 
Watt 212
Pedagogy in the era of social media. 
Clipper Lab
Identifying knowledge gaps in global architectural history. 
Harris 102
Are we teaching global yet? 
Lindhurst Gallery
The shrinking pre-modern: Is it really not relevant? 
Verle Annis Gallery
3:00–3:15pm: Short Break
Sign-up on the interest board for grant topic/regions of interest for break-out sessions
4:15-5:45pm: Break-out sessions Round Two
6:00-6:30pm Wrap Up  
6:30–8:00pm: Dinner with refreshments
The University Club